Can You Treat Acne With Probiotics?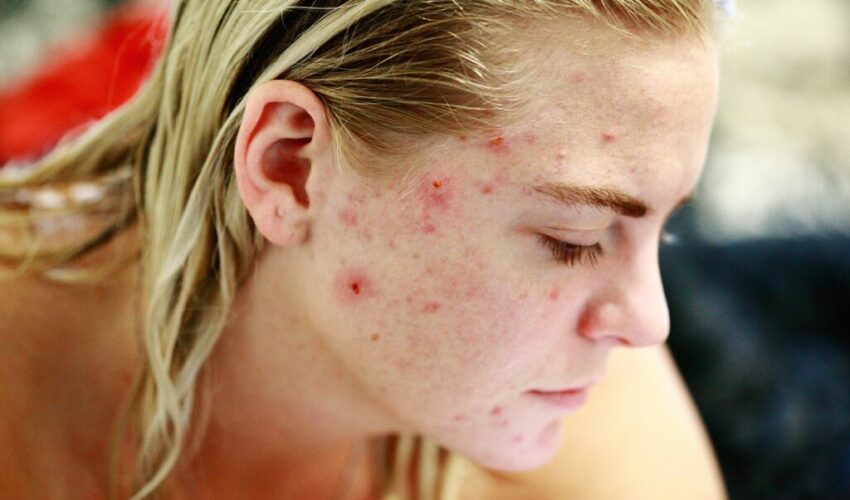 It can certainly ruin your morning if you wake up and notice that you've got zits on your face. The worse thing is, instead of going away, it seems to keep on multiplying to the point that it covers your entire face. And it doesn't seem to respond to any treatment either.
Truth is, acne problems can be very persistent. Your suffering also doesn't end with your teenage years. It can plague you in your whole adult life. It's more than just skin deep. Many people who suffer from serious acne problems have reported feeling self-conscious and losing self-confidence.
There is no silver bullet that can cure all types of acne but some people swear by probiotics. So, can you treat acne with probiotics? It can, to a certain degree.
What is Acne?
Acne happens when the sebaceous glands in our skin produce too much oil. Because of this, the hair follicles get clogged up with oil, dirt and dead skin cells. This results in inflammation and bumps on our skin's surface. Since most of our oil glands are located in the face, acne breakouts most often occur in that area. It can happen in the chest, upper back and shoulders too.
There are a variety of factors that can prompt our oil glands to go overdrive. Some of them are:
Genetics – if one or both of your parents had acne, chances are you'll suffer from it too.
Oil-based cosmetics – it can worsen your skin's oiliness and can clog pores
Pressure – tight collars, helmets, chin straps and anything that squeezes parts of your face can worsen your acne
Hormones – Hormonal changes can cause drastic changes to your skin's oil production
Medications – some drugs like corticosteroid, testosterone or lithium affects your hormones and cause acne
Diet – The foods you eat can also trigger or worsen your acne
Sometimes, acne can be caused by a combination of the above factors.
If you look closely at an acne breakout, you'll see that blemishes can range from small bumps to all-out pustules. There are, in fact, six types of acne: blackheads, whiteheads, pimples, cysts, nodules, and papules.
Probiotics and Skin Inflammation
Your body is a host to billions of microorganisms, some of which can make you sick. Probiotics are microorganisms often dubbed as the "good bacteria". That's because unlike its harmful counterpart, this bacteria is beneficial for you. It crowds out the bad bacteria to maintain a healthy balance of microorganisms within your body. An imbalance of which can lead to various health issues.
Since most of these microorganisms reside in your gut, probiotics are largely known for the prevention and treatment of digestive problems. But the health benefits of probiotics extend beyond our digestive system. It also does wonders for our immune system, throat, mouth, ears, heart illness, and even diabetes.
One major health benefit of probiotics is its anti-inflammatory properties. This allows it to treat and prevent various health issues and skin inflammations like acne. The Journal of the American Academy of Dermatology even wrote about its promising impact on chronic acne. Although more studies have to be conducted, they're confident that probiotics may very well be the future of acne treatment.
Probiotics For Acne
For treating acne, researchers suggest that probiotics can be applied topically, orally or both.
When applied topically, it can form a barrier that acts as your skin's shield against harmful bacteria and toxins. This prevents them from getting into your skin and causing an immune system response. The probiotics' antimicrobial property also fights back and kills the bad bacteria before it does any harm.
Oral probiotic supplements also help your body fight acne from within. When your body detects harmful foreign bodies, it automatically triggers your immune system to fight back. But probiotics create a healthy gut flora which improves your body's immune reaction. It calms inflammatory responses thus lowering the risk for acne breakouts.
Antibiotics are also commonly used to treat acne. However, with the growing number of people who have developed resistance to antibiotics, probiotics are a great alternative. It is a bacteria that are already present in your body thus there is a lesser chance for your body to develop an adverse reaction to it.
What Probiotics Are Good For Acne?
This might come as a surprise to some but there are thousands of probiotic strains out there. Each one has its function. Take Bionaze for example. It's a probiotic supplement specially formulated to improve ear, nose, throat and mouth health. It contains two cutting-edge strains Bl-04 and BLIS K12 which is great for oral and respiratory health. Thus, when choosing a probiotic supplement for your acne, make sure that it has the right strains.
One of the strains that are identified to reduce acne is Lactobacillus Acidophilus or L. Acidophilus. It's also one of the most common strains of probiotics. It is naturally found in your intestine and helps your body in producing lactic acid. Fermented foods like cheese, yogurt, kimchi, and sauerkraut contain high quantities of this probiotic strain.
Aside from easing infections, L. Acidophilus also prevents and reduces allergic reactions. Several studies have also found that it reduces itchiness and pain when the skin becomes inflamed.
Another probiotic strain experts recommend for acne treatment is Lactobacillus Bifidobacterium or L. Bifidobacterium. Its antimicrobial property helps your skin fight and destroy unwanted bacteria and toxins. Like L. Acidophilus, this strain is also known to regulate immune system responses preventing unnecessary inflammations.
When choosing which probiotic supplement to use for your acne, experts recommend looking for those that contain both of the above strains. Supplements should also be backed-up with an intake of probiotic-rich foods to maximize their effects.
Why Probiotics?
For the past decade, several studies have been made to determine how probiotics affect your skin's health. So far, results have been promising. Most studies confirm that it reduces inflammation in the hair follicles thus preventing it from being clogged.
Best of all, unlike most modern medicines, there are lesser reported side effects of probiotics. It even contributes to the improvement of your overall health not just your skin. Experts, however, highly recommend talking to your doctor or dermatologist first before starting your probiotic routine especially if you are taking other medications and antibiotics.